Conference: What is the current state of press photography?
9. 10. 2019 from 9AM
The conference is divided into two sections. We will look at both the international and local perspective on the situation. Speakers on the first panel: David Campbell (Australia/Netherlands), Director of Programs and Outreach, World Press Photo Foundation; Colin Jacobson (Great Britain) - founder and editor-in-chief of the international photojournalism quarterly Reportage; and photographer of Iranian origin, Amak Mahmoodian. Second panel: Petr Mlch, editor-in-chief Czech News Agency's photo bank; Marek Stoniš, editor-in-chief, Reflex magazine, Robert Čásenský, editor-in-chief, Reporter magazine. Representing working photographers will be Dan Materna of Mafra and writer and photographer Ondřej Neff.
THE ROLE OF PROFESSIONAL VISUAL JOURNALISM TODAY

(9 October2019, Novotného lávka 5, Prague)

organised by Czech Photo o.p.s. alongside international and Czech experts on the occasion of the 25th year of the Czech Press Photo contest.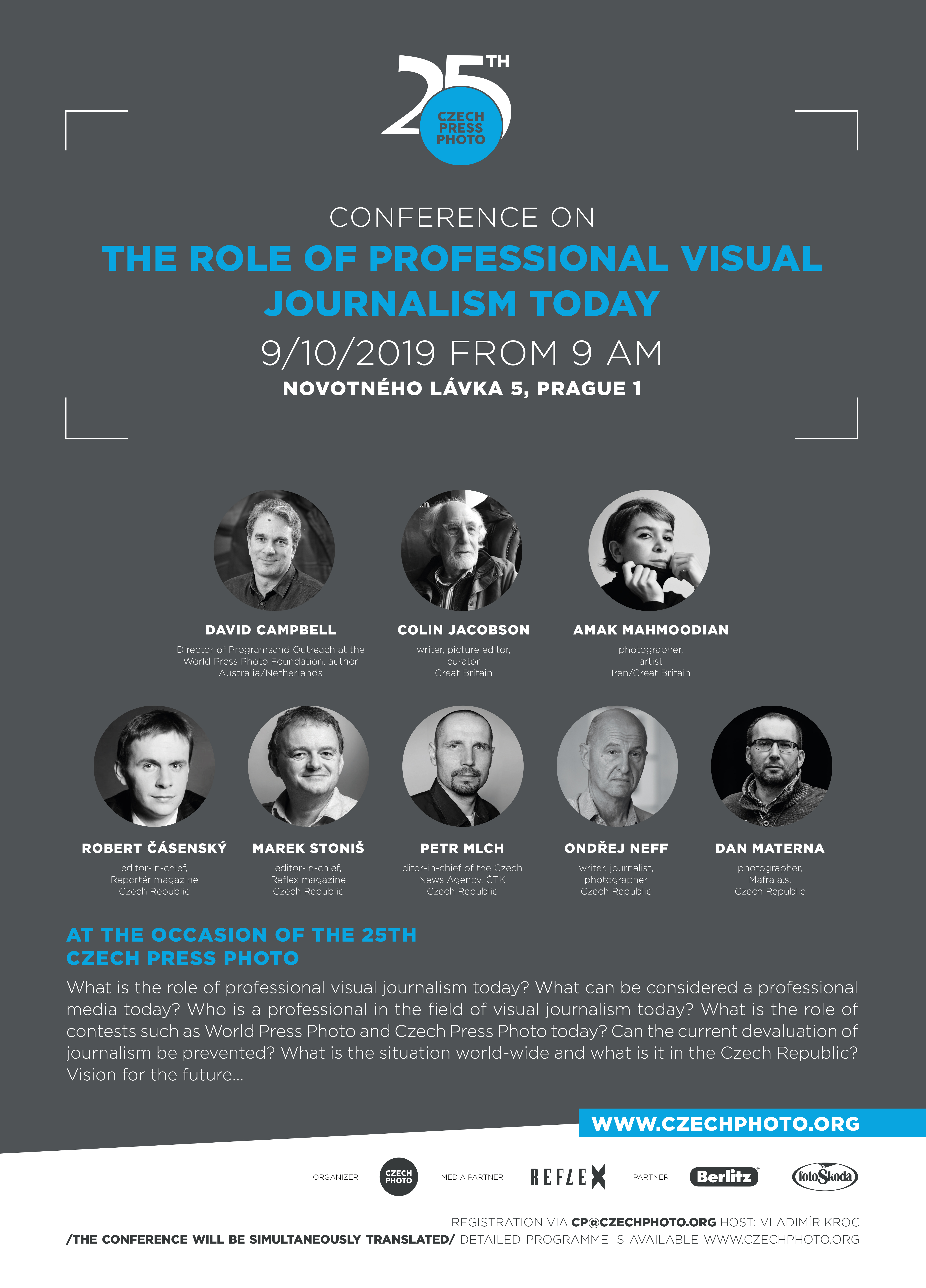 Principal topics: What is the role of professional visual journalism today? What is professional media today? Who are the professionals in the field of visual journalism? What is the role of contests such as World Press Photo and Czech Press Photo? Can the current devaluation of visual journalism be prevented? Visions for the future?
Schedule:
9.00 am - welcome by Czech Press Photo director, Veronika Souralová 9.00 am - 9.10 am opening remarks by CPP founder Daniela Mrázková 9.10 am - 10.30 am - Panel I 10.30 am - 11.00 am - coffee break 11.00 am - 12.00 am - Panel II 12.00 am - 1.00 pm - discussion
The conference will be interpreted simultaneously and held at the Conference Hall, Novotného lávka 5, Prague, from 9.00 am to 1:00 pm. Moderator: Vladimír Kroc.
Entrance is free for students and participants in this year's Czech Press Photo contest. The fee for non-students is CZK 500 (CZK 400 advance tickets on-line). The capacity of the hall is limited, so book early by e-mailing: cp@czechphoto.org
Organiser: Czech Photo
Media partners: ČTK, Reflex
Partners: Berlitz, FotoŠkoda
You can download press release .pdf